"The beautiful moment of taking braces off, and seeing the joy a new smile creates not only in my patients, but in their parents, their spouses, their friends... the impact on their personal lives in every respect. It's wonderful to have had a part in making their lives better." — Dr. Mario Paz
An Orthodontics Leader and Innovator
Dr. Mario Paz has been in the forefront in the field of orthodontics for over 25 years. He was selected to help develop and refine the Invisalign® brand of invisible braces. In fact, he was the first to successfully treat over 2,000 Invisalign patients. Dr. Paz is a Diamond+ Invisalign® Provider and has been involved with the technique since it was introduced to the Los Angeles area in 2000.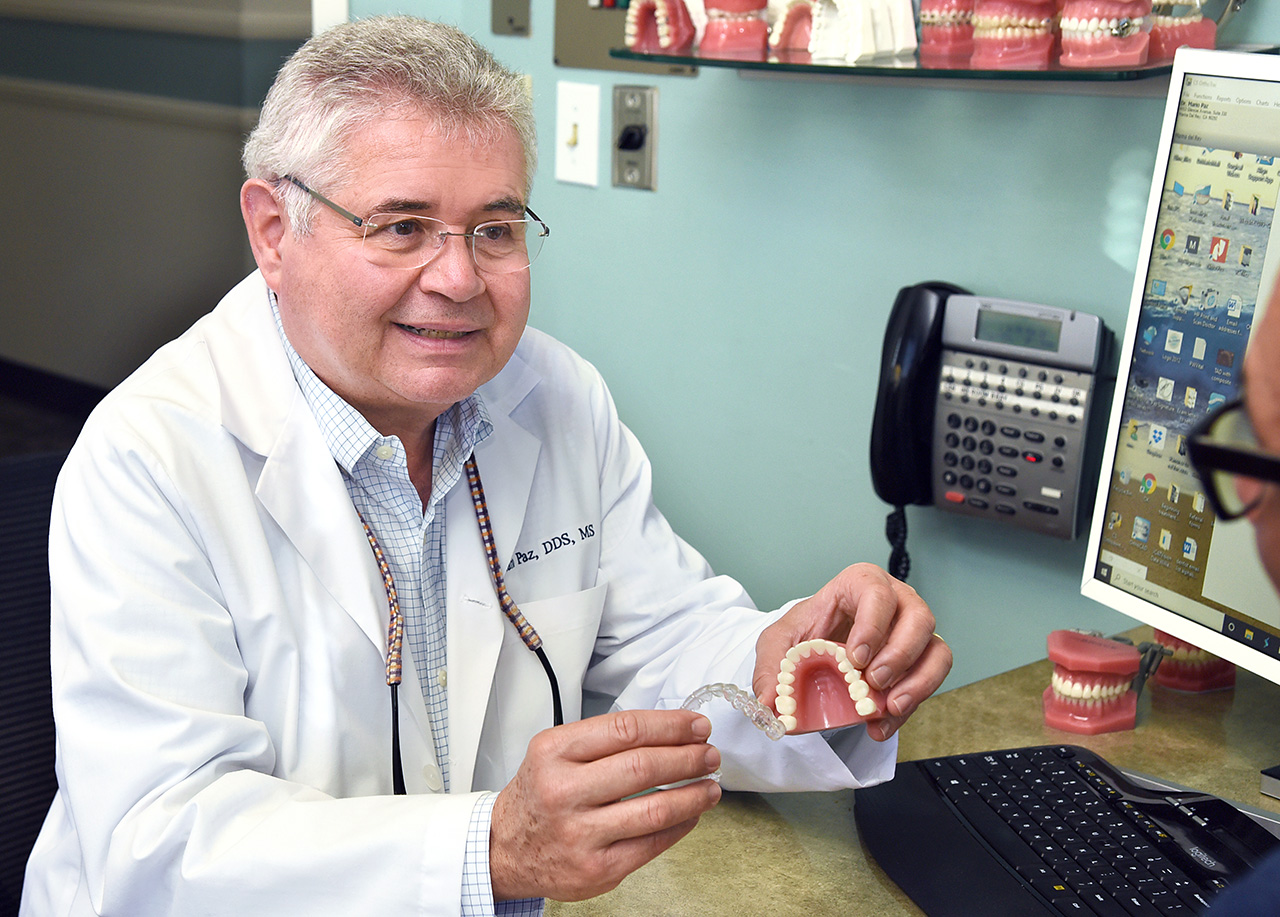 A constant innovator in behind-the-teeth Lingual Braces, Dr. Paz was a founder and president of the American Lingual Orthodontic Association for 14 years.
He is also the founder and former director of the Lingual Orthodontics program at UCLA. Lingual braces are a revolutionary option of invisible braces for those needing a deeper level of correction.
Because of Dr. Paz's extensive expertise and involvement with the development and refinement of various types of invisible braces, he has been invited to lecture at orthodontic conferences all over the world. At Dr. Paz Orthodontics, we enjoy the reputation of being one of the largest Lingual orthodontics practices and offers the efficient combination of Invisalign with Lingual braces.
But if you ask him, Dr. Paz will tell you the most important thing to him and his staff are patient smiles. Patients come first, always. And their satisfaction is the priority of the entire office staff and expert technicians.
Dr. Paz practices exclusively in Marina Del Rey, the community in that he loves and lives in.
First in Beverly Hills and now in beautiful Marina Del Rey, he has completed over 6,000 orthodontic cases in his career and is a leader and innovator in the field of orthodontics. Dr. Paz was one of the first orthodontists to successfully lift 1000 smiles with Invisalign clear aligners and created 1,500 new smiles with invisible Lingual Braces.
On weekends one may find Dr. Paz fishing (his passion!), barbecuing or walking on the strand with his dog Rudy. He, and his wife Linda, enjoy their two adult daughters as well.
Each year Dr. Paz donates several orthopedic-orthodontic treatment cases to local schools to aid in their fund raising.
Dr. Paz specializes in early treatment for children, teens and adults offering a variety of treatment options with the best orthodontic care for an exceptional orthodontic result.
Originally from El Salvador, Dr. Paz moved to southern California, with his wife, shortly after graduating from the Eastman Dental Center at the University of Rochester, New York with a Masters in Dental Science. He has special training in the treatment of children with cleft palate and other craniofacial anomalies. He received a Certificate of Proficiency in Orthodontics with special training in Lingual Orthodontics, and completed a fellowship in Temporomandibular/Jaw Disorder.
And you should know…
Dr. Mario Paz is all about helping his patients create beautiful smiles. Believing that people prefer to minimize the visual distraction of old-fashioned braces, Dr. Paz offers two styles of invisible braces and state of the art wire and ceramic braces.
Dr. Paz has been widely published in prestigious orthodontic journals. He has lectured in the fields of Lingual Braces, Invisalign combined with lingual braces and TMD in the U.S. and abroad. In competition with doctors from universities across the country, he was the honored recipient of the Harry Sicher First Research Award presented by the American Association of Orthodontists. This award, granted once a year, is for the highest achievement and most significant research in the field of orthodontics.
Dr. Paz has focused on Lingual orthodontic therapy since 1990 and enjoys the reputation of having one of the largest Lingual orthodontic practices in the country. He is a perfectionist in obtaining ideal cosmetic results for his patients both while they are in active treatment and afterwards in post-restorative dental treatment with their general dentists.
Naturally Fun-Loving & Caring
Dr. Mario earned his nickname 'Super Mario' from his staff and patients who know him best. Much to the delight of everyone in his office, and true to his love-loving nature, he embraces his new moniker wholeheartedly during Halloween time.
"Our team is comprised of highly trained and skilled professionals, all focused on patient care and detailed communication. Beautiful smiles are a way of life around here. Our patient's satisfaction with their treatment and aesthetics are paramount to everyone in our office."
– Dr. Mario Paz